I've been blogging since September 2012, so I still consider myself a toddler in the world of Blogging. Well, that's not true. Those with toddlers would translate that to mean nagging, needy and up other bloggers behinds. Ok, so maybe that's kinda true…
Anyway, my point is, there are a handful of Mommy Blogs out there that I've stalked, er, followed since I started this crazy ride and Meredith from
The Mom of the Year
is one of them! So, when she asked if I wanted to throw something out there and declare myself Mom of the Year, I squealed loudly at my computer and danced a little jig. Of course, my actual reply and acceptance was much less squealy.
But here I am, thanks to Meredith, and I proudly declare that I am, in fact: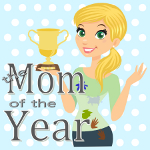 Please click the picture above to head on over and read all about why I think I deserve such a lucrative title!